As I mentioned in my last post about the gymkhana there were some (actually quite a few) moments that just made me cringe. Most abundant was the rampant yanking on mouths with shank bits. The greater majority of riders (young and older) used little to no leg or seat aids and relied soley on the reins.
I've cropped out some of the pictures that were emailed to me by the show's photographer to give better detail of what I'm talking about.
Please don't get me wrong, I'm not totally opposed to bits, but I am totally against them being used incorrectly, which oftem borders on abusivly. But honestly, the more I think about it the less I like the idea of pulling a horse around by a metal bar in their mouth. In so many cases having a bit in their mouth actually makes a horse more upset, fearfull ad ready to bolt (less likely to listen) than a horse in a halter. If they fear your aids you are really fighting a losing battle. And who the heck wants riding to be a battle anyway? I sure don't!!
All hands, no seat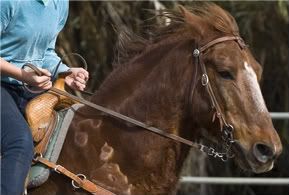 Trying to evade, but can't due to the tie down.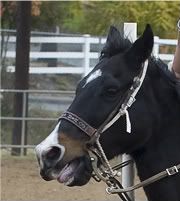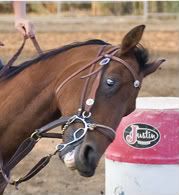 High head, trying to avoid the pain.




All hands again.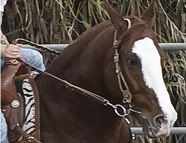 Yank is face off cowboy.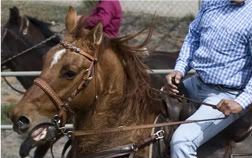 No seat, all hands and a very tight hold. (This is at a canter)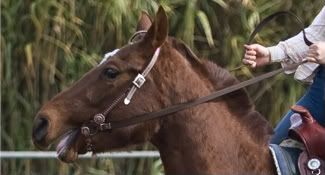 Not really sure what to say about this one other than ouch.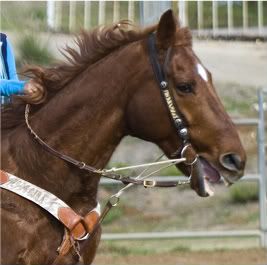 These horses give their all for their riders and are pushed, pulled, spurred, yanked and whipped seemingly with little rhyme or reason behind it.
Be on the lookout next spring for Honey and I to be doing this sans bit.